Henry Altemus Co. (Philadelphia, US)
Series dates: 1896-1910
Size: 4.25″ x 6.5″
The Henry Altemus Company website documents the complex publishing history of this Philadelphia publisher. Information in this entry is based on the extensive information at the site.
"Henry Altemus and the Henry Altemus Company (1842-1936) was a popular and prolific Philadelphia publisher which started as a bookbinder and evolved into a publisher of photographic albums, bibles, decorative reprints of fiction, religious and moralistic books, juvenile series books, fairy tales, puzzle books, etc." (source)
"Henry Altemus published numerous series, mostly with beautifully decorated covers, which were completely composed of reprints of religious stories, essays, poetry, moralistic tales, adventures, and fiction novels. Authors like Nathaniel Hawthorne, Thoreau, Edgar Allan Poe, Emerson, Drummond and the like were well represented." (source)
The approach Altemus took to its reprint series was predicated on a core list of titles issued in many different series over many years. Within one series, which may include all or a selection of the core list of titles, the binding design would change every year, and every design came in different colors. Most Altemus books had tissue or paper jackets or were boxed (or both). Series names were typically included on the box, but not usually on the book itself (nor on the tissue jackets, which had no printing).
I believe the book shown below, John Brown's Rab and His Friends, is part of the Petit Trianon Series, issued from 1896 to 1910 in three numbering variations. The series was related, in titles included, to the Valenciennes Series, which is advertised in the back of the book. The Altemus site indicates this particular binding design was issued in 1901-1902, given the lilac artwork. There is a chance this book was originally boxed, but it seems odd that it would have lost its box, but not its tissue wrapper. In addition, many of the boxed titles shown at the Altemus website don't include tissue jackets.  Thus this book may be part of a different series, or just irregular. The ultimate goal of publishers like Altemus was to sell books, and it is not uncommon to find irregularities among such series books.
The decorative book is bound in white with gold debossed decorations and typography. The lilac graphic is in full color.
The decorative endpapers include a stylized HA (Henry Altemus) at the center of each page.
The half-title page:
The first of two title pages. This page is a photograph of a three-dimensional decorative publisher's device, with the book title and author overprinted in red.
A color illustration faces the two color decorative title page. There is no copyright page, nor indication of date, nor series name in or on the book
An extensive catalog lists titles in various Altemus series, including the Vademecum Series, of which 244 series numbers are listed (but not all are used). This is the core list of titles from which most of the books in the various Altemus series were drawn.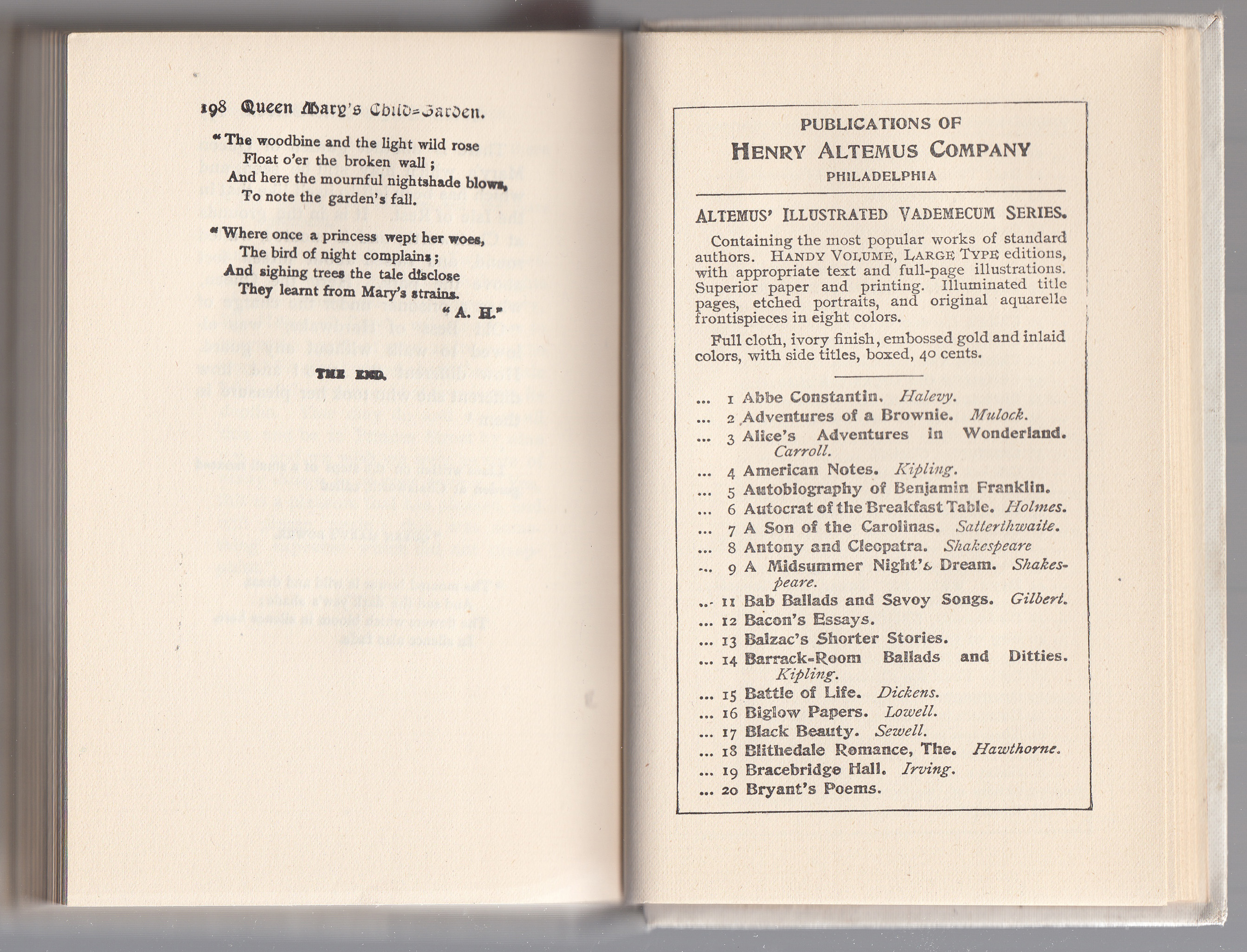 Altemus' Dainty Series of Choice Gift Books follow in the catalog, with 14 titles.
Altemus' Illustrated One Syllable Series for Young Readers and Altemus' Young People's Library:
Altemus' Illustrated Devotional Series:
Miscellaneous titles published by Altemus, including Dore Masterpieces:
Finally, Altemus' Edition Shakespeare's Plays: