The Hogarth Press (London, UK)
Series dates: 1940-1947
Size: 5″ x 7.25″
Edited by John Lehmann (who would go on to found his own firm, John Lehmann Ltd. in 1946 and issue The Chiltern Library and The Holiday Library) The New Hogarth Library would eventually encompass sixteen poetry titles:
No. 1 Selected Poems by William Plomer
No. 2 Selected Poems by C. Day Lewis
No. 3 Selected Poems by R.M. Rilke
No. 4 Selected Poems by V. Sackville-West
No. 5 Poems by Terence Tiller
No. 6 Work in Hand by Robert Graves, Norman Cameron, Alan Hodge
No. 7 Selected Verse Poems of Arthur Rimbaud
No. 8 The Middle of a War by Roy Fuller
No. 9 Forty Poems by John Lehmann
No. 10 40 Selected Poems of Herman Melville
No. 11 Selected Poems of Federico Garcia Lorca
No. 12 The Inward Animal by Terence Tiller
No. 13 The Sun My Monument by Laurie Lee
No. 14 A Lost Season by Roy Fuller
No. 15 From the Shiffolds by R.C. Trevelyan
No. 16 Unarm, Eros by Terence Tiller
Lehmann also edited the Poets of Tomorrow series (3 titles, 1939-1941) for Hogarth, focused on less established poets. This was similar to an earlier Hogarth series, Living Poets, edited by Dorothy Wellesley (29 titles, 1928-1937).
Jackets and bindings for the New Hogarth Library remain unchanged throughout the seven-year run of the series. This copy of The Selected Verse Poems of Arthur Rimbaud is the second impression from 1942 (first impression also 1942). A plain jacket design varies in the ink color used from title to title and indicates the series name on the front of the jacket. A blurb about the title is included on the front jacket flap. The series number and price (3s./6d) is also included on the front jacket flap.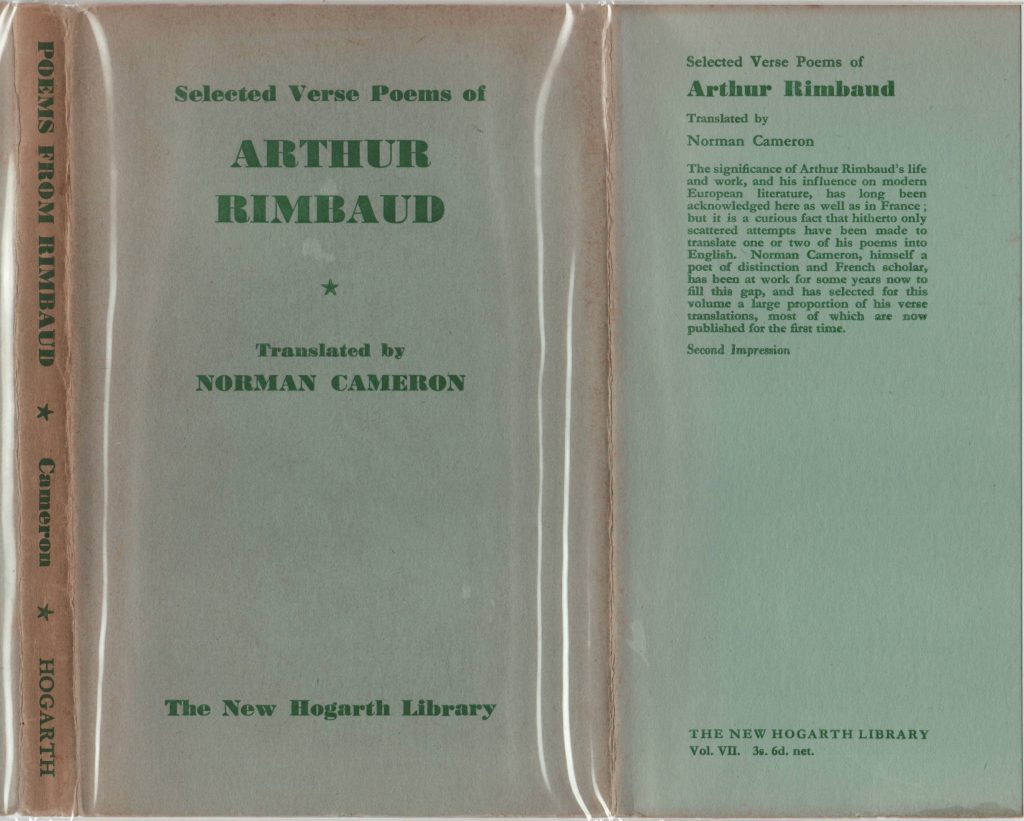 A list of titles up through volume 9 in the series is indicated on the back jacket flap.
Salmon cloth binding with minimal text varied in color from title to title (including blue, yellow, teal, orange).
Half-title page:
Title page includes the series name and serial number, as well as the second impression indication.
Copyright page.
Chatto & Windus acquired the Hogarth Press in 1946. They reprinted some of the New Hogarth Library titles in their Phoenix Living Poets series (1960-1983).