George G. Harrap & Co., Ltd. (London, UK)
Series dates: 1945-1987
Size: 4.5″ x 7″
A post-war series of classic French plays in French, but with an extensive introduction, notes, and resources in English. A paperbound version of the series was issued in the late 1960s. Both hardcover and paperbound titles from the series continue to be issued until the late 1980s.
This copy of Corneille's Polyeucte in Harrap's French Classics was published in 1951. Jackets are common for the series at this time with a simple but somewhat distinctive jacket design. The series name is indicated on the front of the jacket and the front jacket flap. The front jacket flap lists four additional titles in the series as of 1951. The price, also listed on the front jacket flap, is 6/-.
The rear of the jacket advertises Harrap's Bilingual Series along with four titles in the series. The rear jacket flap explains the background and goals of the French Classics series. Based on Harrap's publishing of French classics for upper schools and colleges, this series makes the same texts available to the general public. The books include a significant introduction, bibliography, resources on the French language used in the text, illustrations, and notes.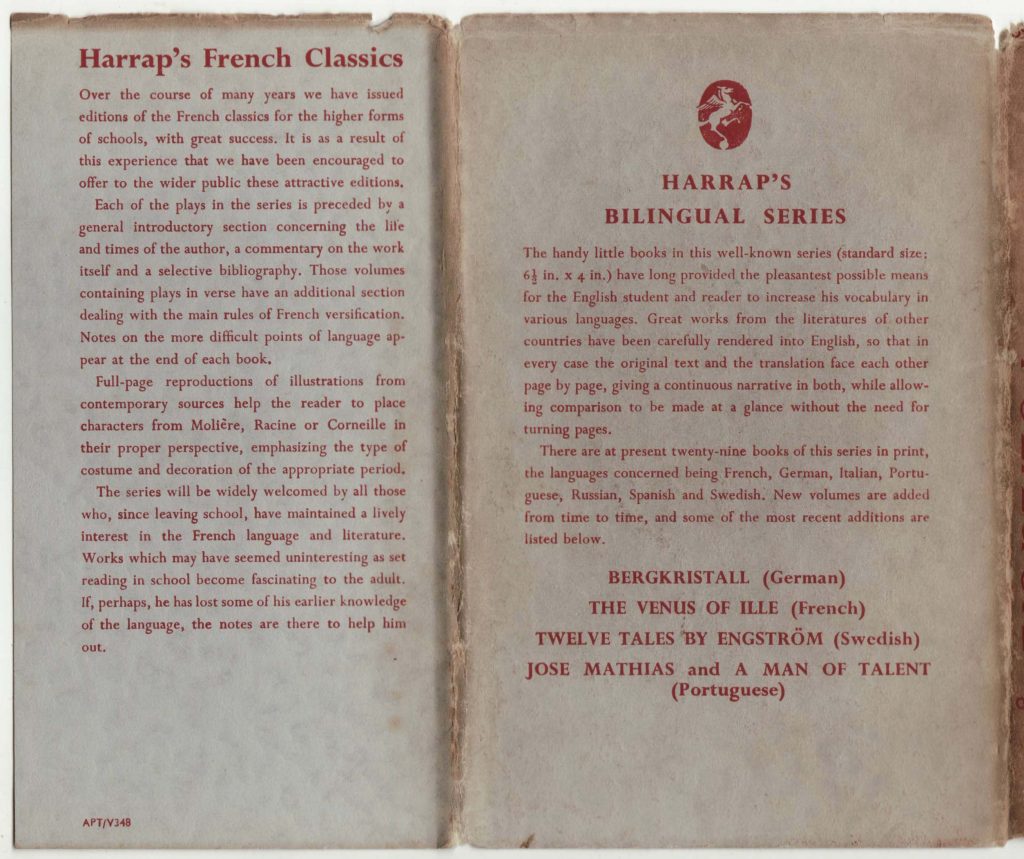 The bindings are blue cloth with gold decorations:
An illustration from the original publication of Corneille's plays prefaces the book's title page. There is no half-title page.
Another illustration, this a portrait of Corneille, faces the title page. The title page includes the series name, information on the editor and other contributors to the volume.
The copyright page includes the date of publication.