aka/ Yellow Jacket Novels
aka/ H&S Yellow Jacket
aka/Yellow Jacket Reprints
Hodder & Stoughton (London, UK)
Series dates: 1917-1944; 1949-1957
Size: 4.5″ x 7″
A popular series of reprinted contemporary authors, Hodder & Stoughton's Yellow Jacket Series was issued for about 20 years prior to WW2, then revived for about a decade in the 1950s. The early series was known for its mysteries, detective stories, westerns, and thrillers. This series is referred to with name variations, including the Yellow Jacket Novels and Yellow Jacket Reprints. I believe these are all the same series. A paperback series was also issued. The later series reissued some of the same titles.
---
Documentation for an extensive collection of H&S dust jackets, including the Yellow Jacket Series, is discussed here with details here.
---
This March 1944 printing of Zane Grey's The Drift Fence reveals a typical pre-war unique series jacket. The bright yellow background on the spine and jacket front is joined by an illustrated spine title, looking somewhat like a label set at an angle, and the series name, in this case, H&S Yellow Jacket. A sticker with a price change (to 2/6 net) includes the series name as Yellow Jacket Novels. The front of the jacket is illustrated and includes the author and title. The front jacket flap advertises a new Zane Grey title (On the Hoof).
The rear of the jacket lists additional titles by Zane Grey. The rear jacket flap is blank. The publishers' colophon is also on the back of the jacket.
Bindings in red cloth with black type on the spine and debossed decorations on the front of the book.
The half-title page:
A list of Zane Grey novels faces the title page.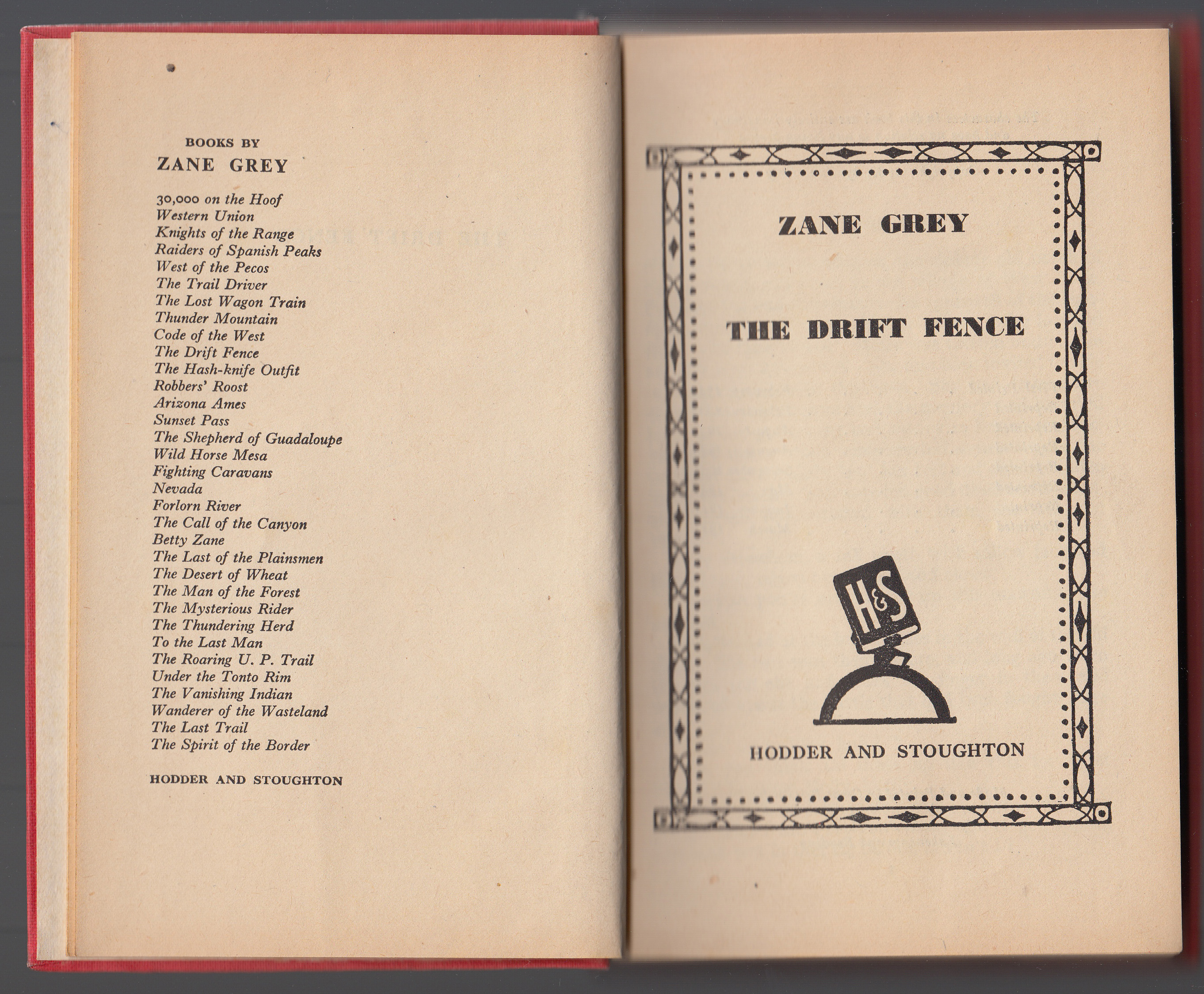 The copyright page with a list of printings of this particular title. Copyright is 1933, and this is a March 1941 reprint. "Made and Printed in Great Britain for Hodder and Stoughton Limited London by Wyman and Sons Limited London Fakenham and London."
---
A copy of Cecil Robert's A Terrace in the Sun was printed in 1951. Jackets in the post WW2 series have a general design pattern that incorporates the yellow used in the earlier incarnation of the series. The series name is found at the base of the jacket spine, but not elsewhere on the jacket nor in the book. It's possible that Hodder & Stoughton felt the yellow color and their imprint was enough to communicate that the book was in the Yellow Jacket Series. Price is on the jacket flap and spine, 6/- net.
The back of the jacket advertises the publisher's Teach Yourself series published by Hodder & Stoughton for the English Universities Press Ltd (London, UK). That series was published from 1938 to 1973 when Hodder & Stoughton took over the series. It continues to be published to date. A list of Yellow Jacket Series titles is included on the rear jacket flap, organized by author.
Basic blue cloth bindings with gold type.
Half title page:
A list of Cecil Roberts' other books faces the title page.
The copyright page includes the year of printing.